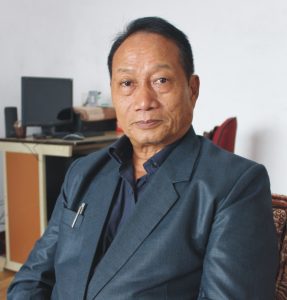 Rev. Kuzierang Thoü
State Chaplain Ministry is a special project which aims to reach out to the intellectuals and politicians who are in the top level of the government of Nagaland. Through this ministry the Chaplain acts as the spiritual guardian and works toward the spiritual upliftment of the politicians in the State. The ministry also serves as a bridge between the church and the State Government. The first Chaplain to the State Assembly was installed in 1989.
Persons who served as chaplains
Rev. Yankey Patton    1989-2003
Rev. Deo Vihienuo 2003-2008
Rev. K. Luruo 2009-2015
Rev. Kuzierang Thoü 2015-till date
Activities under the State Chaplain Ministry
Nagaland Legislator Christian Fellowship:
Under this Sunday worship services are conducted every 1st Sunday of the month.
It also organizes Lady Wives' fellowship twice in a month every 2nd and 4th
Home Visitation: To strengthen the faith, to understand and know the needs of the fellowship members, to see that God's Word is alive and functioning in the hearts and lives of the members, the State Chaplain does home visitation often.
Seminars: Seminars on different topics are conducted for the politicians, their lady wives and children so as to help them renew their minds and be motivated afresh to pursue their goals and find their enthusiasm rekindled in various aspects of their lives.
Prayer: The State Chaplain also offers prayer as and when approached during government programs and political parties' events.
Assembly Session Devotion: The State Chaplain also conducts devotional session on the first day before the State Assembly session commence.
Prayer Time: One important activity under this ministry is to organize prayer time for the Politicians and their families. It is done either in the form of prayer chain, two by two fellowships etc.